Tampa
Country:
United States
State or province:
Florida
Team Leader
Bill Brown
Contact
Admin
Login
---
Team Badges
---
Recent Blog Posts
---
Ybor City - 5/21/22
June 13, 2022
---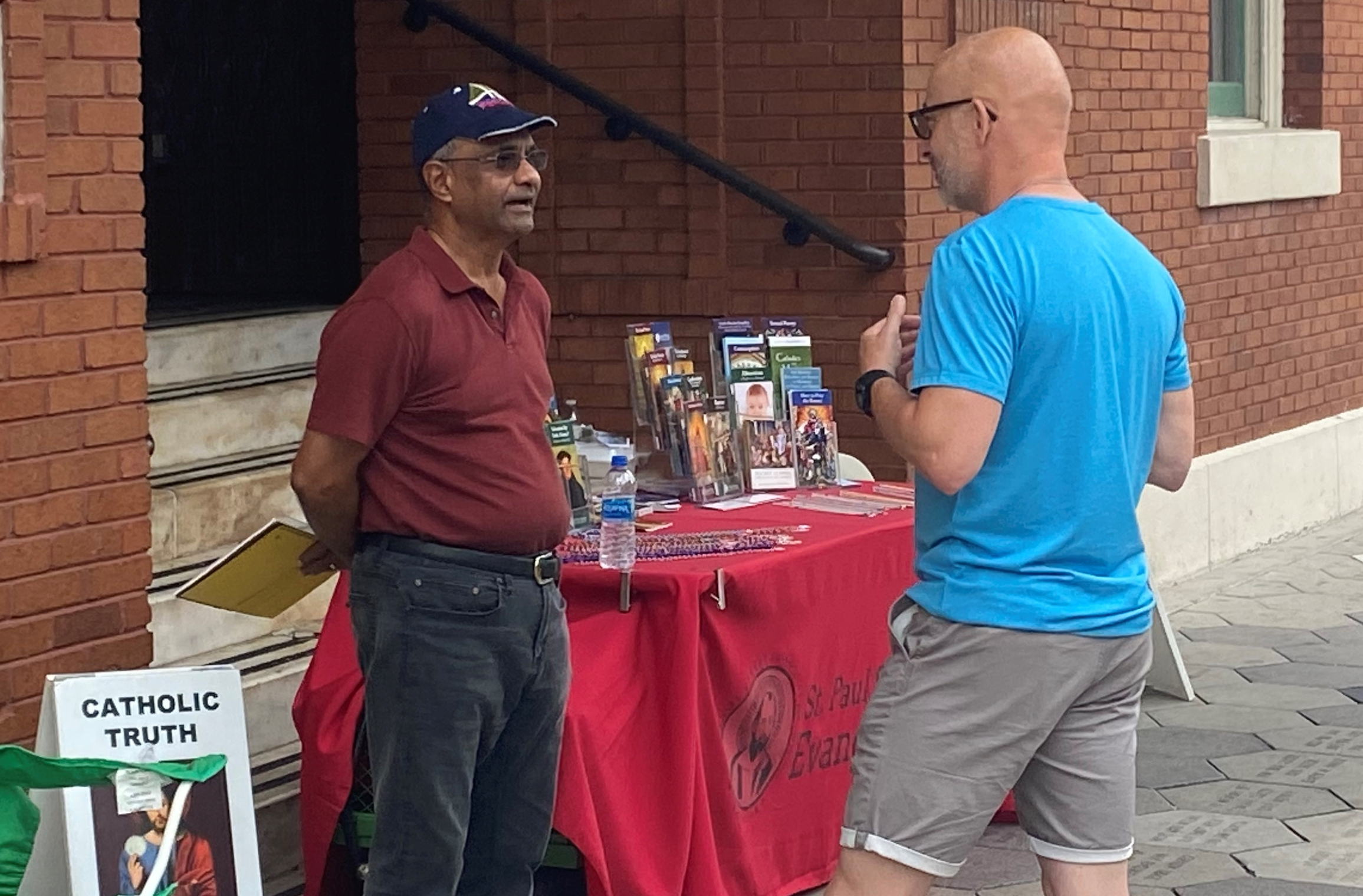 Another great day evangelizing for our Lord Jesus Christ in Ybor City. Here is a sampling of our encounters:
The picture above is Reuben informing Thiemo of where he might like to attend Mass while he is here in Tampa. Thiemo is a Dutch soldier temporarily stationed at MacDill AFB where he is learning from the Joint Special Operations Command.
I spoke to Lisa who was upset that she was told the end is near by a guy who seemed "very knowledgeable". I told her that Jesus tells us no one knows the time, and she should concentrate on the things in her life that mattered. About 30 minutes later I was visited by Joseph. He asked us to pray away his demons. He said the tribulation is here, now. We figured out where Lisa got her information. Joseph was a very troubled individual. We prayed over him. I hope he received some peace from the Holy Spirit.
Dimitrie declined a rosary but asked us to pray for his safe travels. He gladly accepted a St. Christopher medal when I told the story of the patron Saint of travelers.
When we asked Bradley what he wanted prayers for, he responded "loneliness".  He said that was the worst part of homelessness.
 Stacia gave multiple rosaries to a group of exchange students from Spain. They asked for the grace to give back to Spain what they were learning in the US.
A few people were just starting on their faith journey:

Robert was having trouble accepting the truth of the Bible. I gave him a few pamphlets on the topic, and we prayed for faith.
Tathiana asked for prayers that she might accept the existence of God.
Shannon was in the process of discerning whether or not to become Catholic. We had a long conversation on many topics (liturgy, sacredness, priesthood, the rosary). It was going very well. Then she asked, "There's one thing I have a problem with. Do you guys believe Jesus is God?" Of course, I answered in the affirmative, but you'd think she could have brought that up a little sooner. It's kind of a biggie. I gave her the appropriate SPSE pamphlets on Jesus and the Trinity. I also gave her a 20 questions book from Catholic Answers, "The Real Jesus".
Thanks to all who joined me: Reuben, Pete, Bob, and Stacia. You should come too. E-mail me at bill@brown.org. We typically go out the 3rd Saturday of the month.