Tampa
Country:
United States
State or province:
Florida
Team Leader
Bill Brown
Contact
Admin
Login
---
Team Badges
---
Recent Blog Posts
---
Ybor City 1/19/19
August 7, 2019
---

Ybor City is kind of like the Bourbon Street of Tampa; however, it's a great place to evangelize. There is always a lot of foot traffic, and the people are usually not too busy to stop and talk. So that's where we chose to set up at our last outing. We always set up at a great spot in front of a vacant lot.
There was a wonderful start to the day. A young woman, named Danielle, stopped by. She said she was a protestant who attended her first Catholic Mass this past Christmas. She admitted it was beautiful and her curiosity about becoming Catholic has started. We discussed RCIA but before I could get into the specifics she started to cry. She sobbed about not deserving God's love and more I couldn't understand, so with trepidation, I just placed my arm around her and we prayed until she composed herself. She asked for prayers to bring her closer to God in her brokenness. She accepted a rosary and many pamphlets about becoming Catholic, Sola Scriptura and Faith Alone.
Then everything changed. While I was still by myself, a van pulled up with about a dozen members from the Black Hebrew Israelites. They unloaded multiple tables, a stage, and speakers. Some of their items were placed right in front of my table.
Then they started their hate speech over a very loud microphone. I've never really bought into the idea of hate speech thinking it was just free speech to which you disagreed. Boy was I wrong. They openly hate white people, Jews, Asians, Catholics, Christians, Muslims, Buddhists and Hindus. They even hate continental Africans, the current African American leaders, and Martin Luther King Jr. They do this very unabashedly and referred to silent me directly as a homosexual pedophile.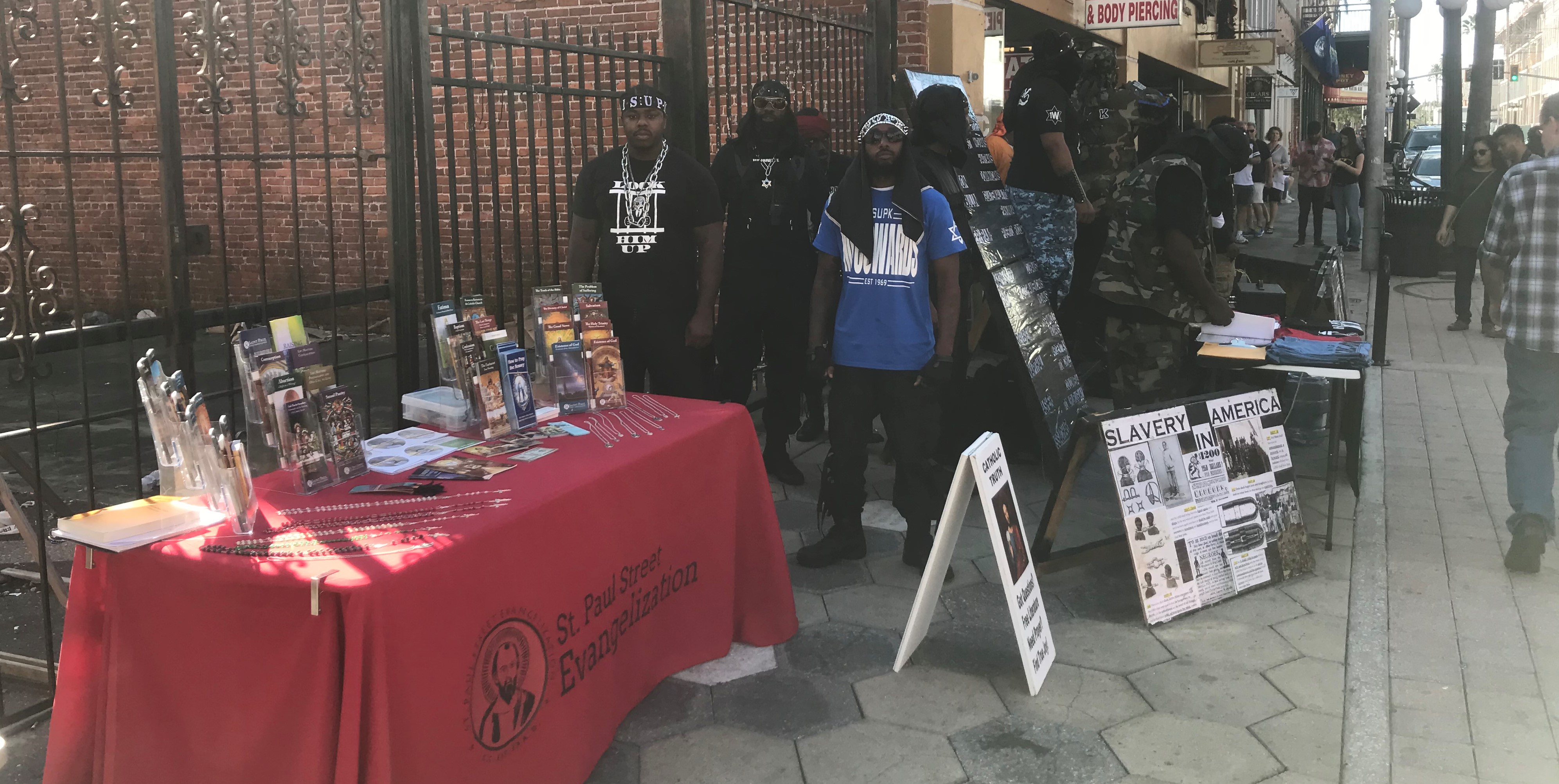 Finally, some of my brother and sister evangelists showed up. We decided we would not put up with this abuse anymore, so we moved across the street. Sometimes discretion is the better part of valor.
We all know that God can show us the good when we see only bad, and this is what He did. Most of the pedestrians were just as uncomfortable with the platform of the Black Hebrew Israelites as we were, and most of them did what we did. They crossed the street to get away from the hate and ended up right at our table of love. We had way more traffic than normal.
Except for the noise from across the street, the rest of the day went as good as it ever has. We evangelized from 11:30 to 6:00. I was joined by first timers Suzanne, Sharon and Betty; Paul from the Lakeland Chapter, and my stalwarts, Richard and Mike.
Then we had one of those encounters that keeps us coming back out. I noticed a young guy who looked familiar. He was a Scientologist I encountered back on November 2016, at the Ybor City Cigar Festival. Here's what I posted about him:
The Scientologists (who had a table around the block) stopped by. They were taken aback when we offered them a rosary saying they thought Catholics hated them. We showed them love, gave them a rosary and showed them how to use it.
I noticed Paul approach this guy, so I let it play out. Here's Paul's report:
There was a young man who was escorting a young gal. They had walked past our booth a couple of times. They were both wearing shirts with Scientology written on them. They both stated that Scientology accepted all religions. I told them that Christ said that He was the only way, truth and life and that no man comes to the Father but through Him. The young man said that he had been attending mass. I asked him if he was confirmed, and he did not know what that was all about. So, I shared with him the importance of going to RCIA and getting the proper knowledge of the faith. I encouraged them both in the faith and to seek after the pearl of great price and to forsake all other things. She said she appreciated all that I had shared.
The seed that was planted in 2016, continues to grow, if even ever so slightly.
Another reoccurring encounter that never ceases to amaze me was the one Sharon had with Janette. Janette appeared to be homeless or at least not very well off. We gave her multiple rosaries, crucifixes and medals for her and her family. When we asked her how we could pray for her, she replied, "prayers of thanksgiving because I'm so blessed". Sharon gave her a big hug.
Some more highlights:
• We handed out over 75 rosaries and 50 medals. The large Miraculous Medals were very popular.
• More pamphlets were taken than normal.
• We wrote down 28 prayer requests.
• We had many "second level" conversations where we get past talking about the rosary or medal and discuss that person's faith in God (or lack thereof).
• Paul also had a chance to evangelize a Messianic Christian by encouraging him to frequent Sacred Heart Parish (downtown).
• We had many Catholics give us encouragement.
From the streets of Ybor City, the Tampa Chapter of St. Paul Street Evangelization wishes you all the Peace of Christ.
Bill Brown
bill@brown.org