Tampa
Country:
United States
State or province:
Florida
Team Leader
Bill Brown
Contact
Admin
Login
---
Team Badges
---
Recent Blog Posts
---
MacDill AFB - Our Lady of the Bay Catholic Community - 10/13/19
December 1, 2019
---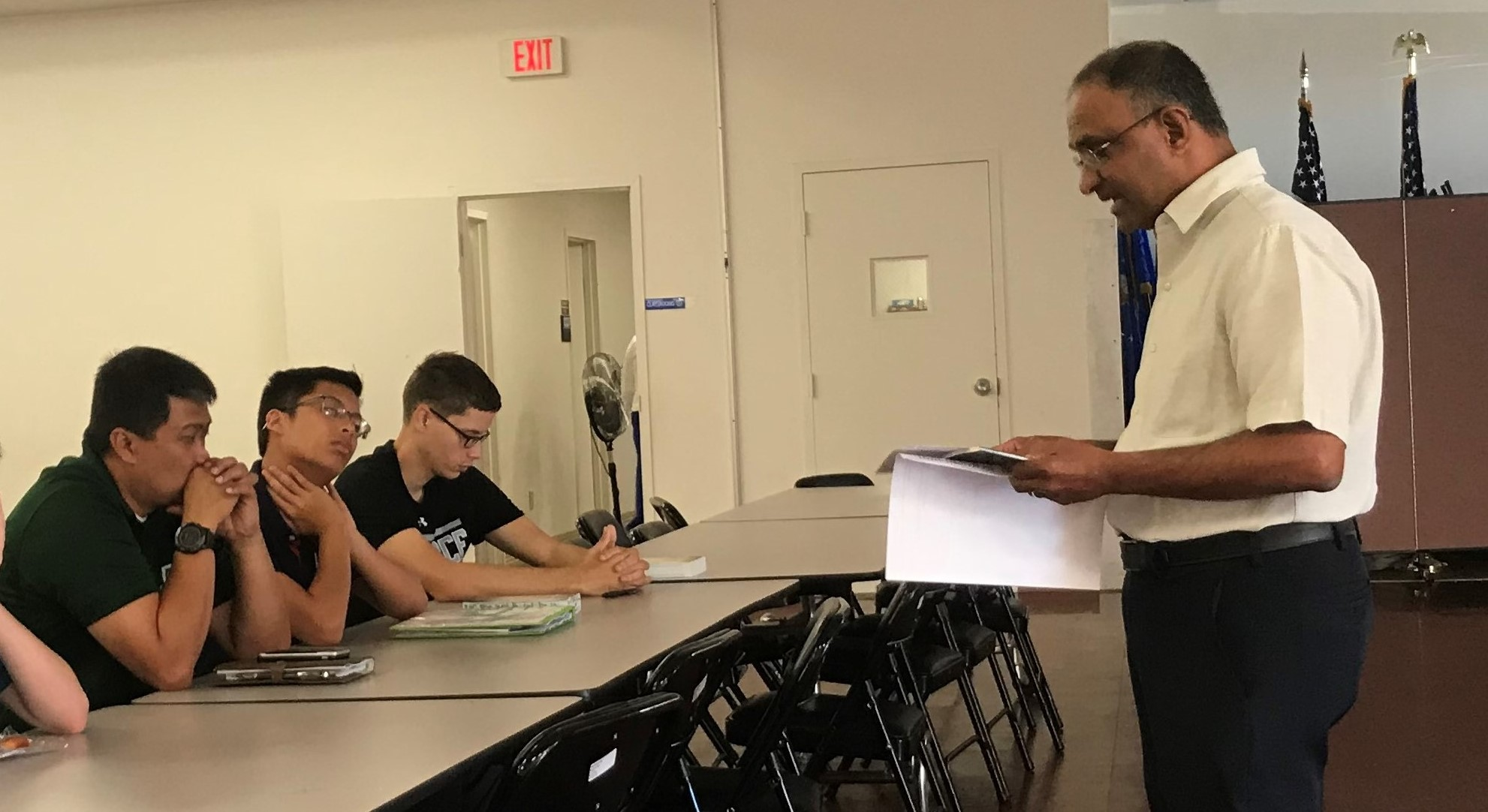 For one of our October activities we were asked to give a presentation on evangelization to the students and adults from Our Lady of the Bay Community at MacDill AFB. Reuben and I used our version of "Ten Ways to Be a Better Evangelist" as presented in one of the many great videos found on the St Paul School of Evangelization section of our website. There were over a dozen participants including the Pastor, Fr. Martin. They also asked us to discuss how we fit our vocation as evangelists into our busy lives. Here's the talk - feel free to use it:
10 Ways to Be a Better Evangelist
1. Be holy – RP
a. 1 Peter 1: 15-16 the call to holiness
b. What it means to be holy – to be set apart for God
2. Know the basics – RP
a. Saved by Grace a free gift from God
b. The Sacraments are moments of grace
c. Mark 12: 30-31 The Commandments as summarized by Jesus
3. Love the people you evangelize – RP
a. What is love – an act of the will not a feeling
b. Desiring someone's good and help them attain it – in short get them to heaven
c. Ways to demonstrate love – be present to them, listen to their story, affirm them
4. Exude joy – RP
a. What is joy - Catholic joy is a spirit or disposition of inner peace, strength, hope, confidence, and determination that comes from experiencing God's love for us    in spite of our sins, selfishness, and mistakes
b. John 15: 11 – 15 – Jesus talked about joy
5. Give away rosaries and miraculous medals – RP
a. Gifts from heaven – Rosary & Miraculous medals
b. Graces attributed to these sacramentals - conduits of grace
6. Learn some Bible verses – BB
a. MT 16 – Jesus asks who do people say I am… Who do you say… Peter rock, hell not prevail
b. JN 20 – After Jesus rose from the dead he appeared to the apostles, "peace, breathed the HS on them and said sins forgiven, sins retained. Apostolic progression.
7. Proclaim the Gospel – BB (Kerygma)
1. The Plan:
a. Big picture: God created the world and man. They are good.
b. More personal: God loves you and has a plan for your life. It is good.
2. The Bad News:
a. Big picture: Evil and sin entered the world through our first parents. This sin separates mankind from God.
b. More personal: Since we are all sinners, we are separated from God because of our sin.
3. The Good News: Jesus became man, died for our sins and rose again so that we could experience God's love and plan for our life.
4. The invitation: Jesus personally invites us to
a. Repent
b. Baptism (or Reconciliation)
c. Eucharist
5. Jesus left us with the gift of the Holy Spirit
HAND OUT CARDS - PAIR UP – DELIVER THE GOSPEL
8. Pray out loud with people – BB - ACTS
a. Adoration
b. Contrition
c. Thanksgiving
d. Supplication
PAIR UP – PRAY OVER ONE ANOTHER
9. Give people "one good reason" – BB
a. Atheist > OGR why I believe in God
b. Non-Christian > OGR why I believe Jesus Christ is God
c. Non-Catholic Christian > OGR why I'm Catholic
d. Lukewarm Catholic > OGR why I attend Mass
10. Things to avoid - BB
a. Do not talk more than you listen
b. Do not judge, outwardly or inwardly
c. Do not guilt them, invite them
d. Do not assume, you don't know
e. Do not speak of consequences
f. Do not convince, inform
g. Do not argue, back off
h. Do not tell them what to do, tell them what you do
How Reuben balances the demands of secular life, his vocation, and the call to evangelize – RP
• Follow the Matthew Kelly four marks of a Dynamic Catholic
• Prayer
• Study
• Generosity
• Evangelization
How Bill balances the demands of secular life, his vocation, and the call to evangelize – BB
• Know your present vocation
• Organize
• Say No
• Do what you like
• Do what you're good at