Tampa
Country:
United States
State or province:
Florida
Team Leader
Bill Brown
Contact
Admin
Login
---
Team Badges
---
Recent Blog Posts
---
Tampa Riverwalk - 8/21/21
September 21, 2021
---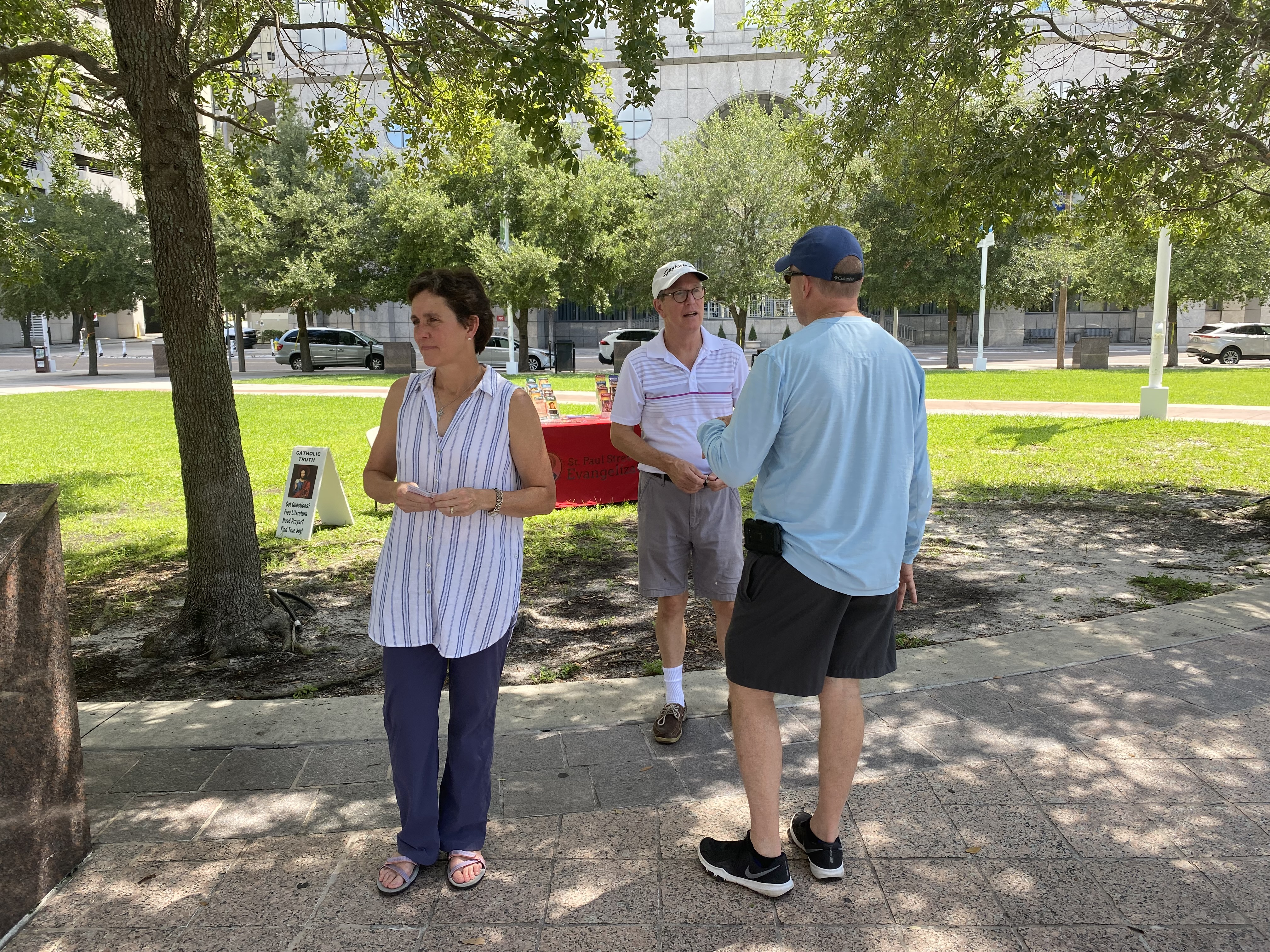 Another beautiful day to evangelize on Tampa's Riverwalk: great weather, lots of foot traffic, joyful evangelists. We did have a issue when an overzealous park employee tried to make us leave, but after a nice conversation with his boss and the police we were able to stay if we moved out table 10' back (like you see it above). Many thanks to Mike, Jeanne, and Chris for joining me.
Some interesting encounters:
Nurse Jody stopped by for a rosary. She said she was dealing with many COVID cases, some with sad outcomes. We prayed for strength.
A group of 6 young ladies walked past declining our invitation to accept a free rosary or medal. As so often happens, after they were 50 feet past, Brianna came running back. She said she has been searching for something and wanted to see what we had. She looked over the brochures and took:

Proof of the Existence of God from Astrophysics
Salvation
Why Be Catholic

A family (mom, dad, and son) were looking out over the Hillsborough River. Dawn moved over to our table and said they were Catholic and had many rosaries. Then she started to tear up and cry. She explained they had driven from Wisconsin to drop their son, Conner, off to his first year of college. For just such circumstances I had a real nice, heavy, black St. Benedict rosary. I told her to give this to Conner. We then prayed together.
We often get people who are in a party way. Shelia had obviously hit a few of the bars along the Riverwalk. To my surprise she took a bunch of pamphlets. I hope she read them when she sobered up.
Please come join us. Email me at bill@brown.org to get added to our list.