Tampa
Country:
United States
State or province:
Florida
Team Leader
Bill Brown
Contact
Admin
Login
---
Team Badges
---
Recent Blog Posts
---
Tampa Riverwalk - 1/15/22
February 16, 2022
---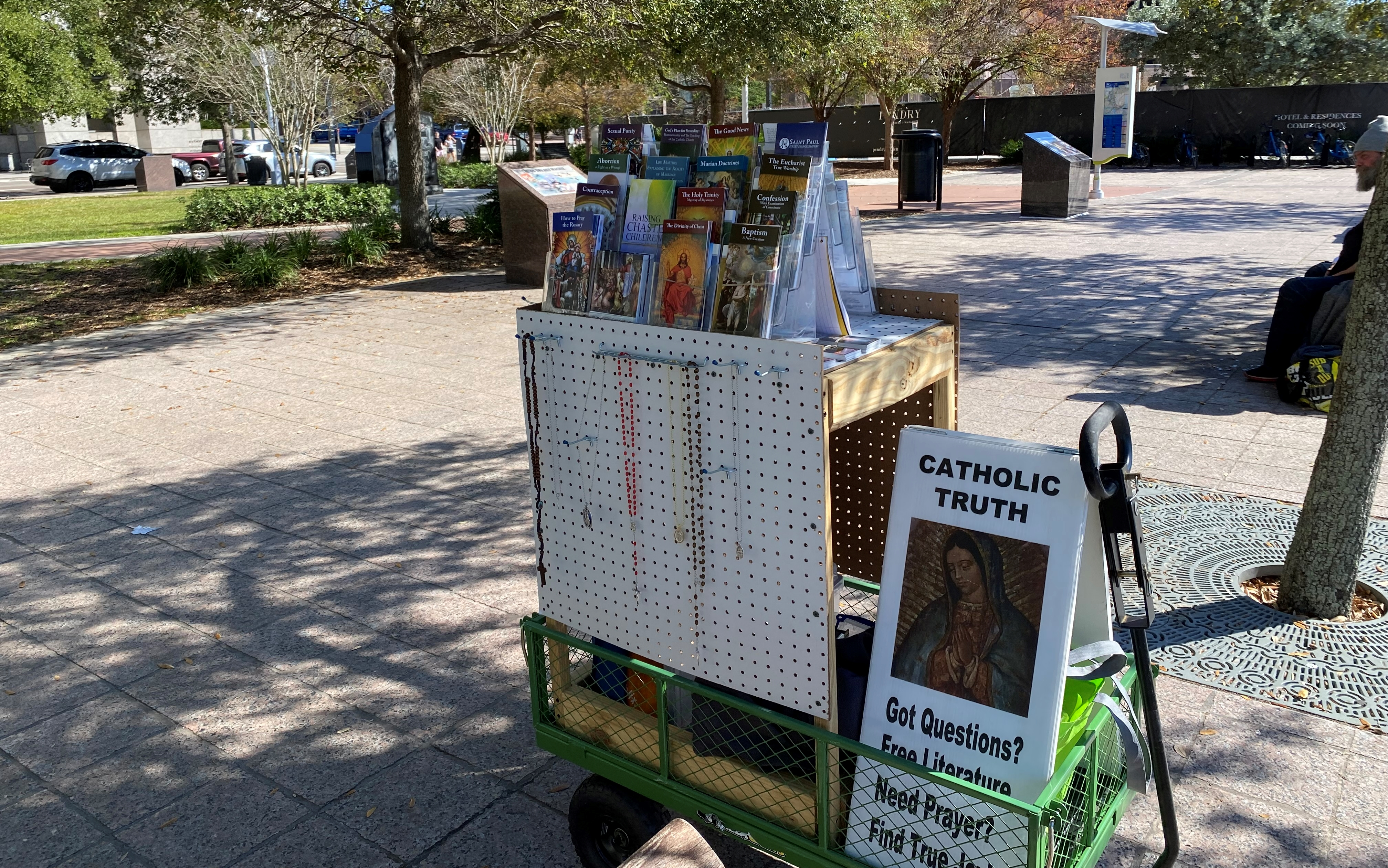 Once again, the Tampa Chapter of SPSE hit the Riverwalk with the METU. We had a few interesting encounters:
There were three homeless guys on the bench next to me. You can see one on the right in the picture above. I know they were homeless because they told me. As I was setting up, I attempted polite conversation with them, and one of them was very rude to me for no reason. I've been involved in ministries that help the homeless for many years. I never found them to be rude like that, so I just ignored them and went on about my business. Soon after I finished setting up, the two nicer ones came by for free rosaries and medals. After an hour or so the rude one did too. He was very apologetic. I made it clear he was forgiven and was glad to give him the rosary of his choice. I'd be in a bad mood to if I spent the night on that bench.
A protestant father, named Kelly, and his son, Jackson (about 6) stopped by and asked me what the rosary was.  After explaining that we meditate on the life of Jesus, each bead was a prayer, and dissecting the "Hail Mary", dad said to his son, "We can do this!" So, they took their rosary and "How To" brochure and left happy.
An adult son was walking his elderly father. They did the SPSE 180. That's when they say, "no thanks" but about 50' later, turn around and come back saying, "We changed our mind, my father would like a rosary." We get that all the time. As we entered into conversation, I found out that dad had been married at Sacred Heart (nearby church in downtown Tampa) in 1964. His wife was long passed, and I could see how tenderly his son cared for him. About an hour later they returned, and the son sheepishly asked for a "How To" brochure. I added the Rosary CD which would help his father even more.
As usual, there were many tourists strolling by. A shout out goes to Arthur and Christina, who attend Our Lady of Perpetual Help Parish in New York.
Finally, there was Judy. She's an 83-year-old (told me later) women who lived in one of the downtown condos. She came up to me and proudly stated, "I used to be Catholic, but now I'm atheist. It's the best thing that ever happened to me." Her biggest complaint was the negativity and guilt first taught by the nuns in grade school ruined her concept of God so much that His existence didn't make sense to her anymore. I tried my "go to" line on her, "It must take a lot of faith to be an atheist in light of all the logical and scientific reasons to believe in God." As I went from first cause, to design, to morality, to after death experiences, and even astrophysical evidence, I saw I was getting nowhere. Then she told me that what really bothered her was me. That I would stand out in public and try to push my beliefs on others. I did respond that SPSE does not push, we offer. She then asked, "Why do you do this?" I said, "Because I love you." I could tell that caught her by surprise. She responded, "You don't love me; you don't even know me." I explained that I love Jesus and he asks me to love others. The best way I could love her was by caring about her and bringing her the good news. We talked more and I have prayed for her a lot since then. I hope I see her again.
Please join us if you are from Tampa or just visiting. We typically evangelize the 3rd Saturday of the month. E-mail me at bill@brown.org to find out more.