Tempe
Country:
United States
State or province:
Arizona
Team Leader
Sean Kelly
Contact
Admin
Login
---
Team Badges
---
Recent Blog Posts
---
Disciples Formed in Holiness
April 2, 2020
---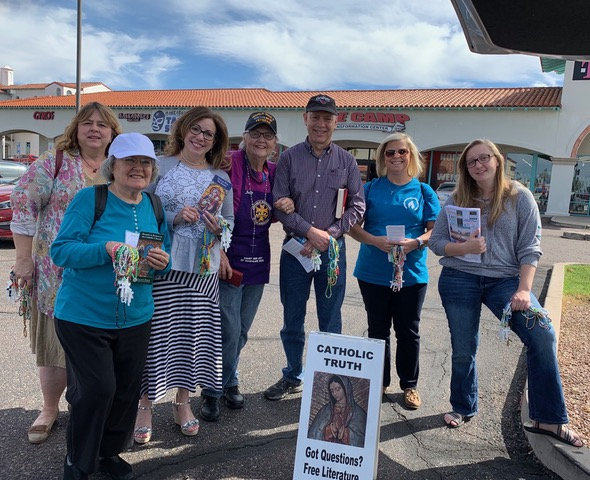 Fr. Eduardo Montemayor, SOLT at Most Holy Trinity in Phoenix, Arizona recently held a retreat called Disciple Formed in Holiness. One weekend was for Spanish speakers and another weekend was for English speakers. One part of the retreat involved trying a ministry out of the comfort zone of the participants. I offered Street Evangelization as one option.
Each weekend a number of participants chose street evangelization. After reviewing the basics of the St. Paul Street Evangelization method, participants hit the streets of North Phoenix for 2.5 hours to share the Good News of Jesus Christ and the Church he founded. All had wonderful encounters. Discussions, prayers, Kerygma proclamations and invitations to faith began as soon as the evangelists arrived at the local light rail station. I was kept busy guiding the new evangelists and keeping everyone supplied with rosaries and tracts.
There was one very interesting encounter I had with a follower of the controversial Faithful Word Baptist Church based in Tempe. Although their teachings are very anti-Catholic, I encountered a woman who felt drawn to Catholicism even though she had been taught only bad things about the Church. After answering a few questions, I prayed for this woman and gave her his contact information in case she has additional questions. All participants said that they would do this again and two expressed interest in starting a team!!