I Will Teach You To Fish For Men
September 16, 2019
The next parish fish fry is in the books and what a great day of evangelizing it was.
Having been there a few weeks now, I am starting to get repeat business. People who were not entirely sure the first time have now decided to come back and talk to me. It is like renew old acquaintances as we talk about how things are going since our last visit. Being a little more determined this time and feeling more comfortable, I was determined to make it a point to invite them to the faith or to deeper faith.
I talked with a couple who are going to the Lutheran church because of a divorce over 30 years ago. I told them there is a way back to the church and that I could help them along the way. A couple of women from the Baptist were there to eat and attend Stations of the Cross. I encouraged them to consider the Catholic Church and gave them some material. To another, I told her how the Catholic Church still worships the way taught by Jesus and as documented by St. Justin.
I listened to a couple tell me stories about how they received intercession through Our Lady and Pope John Paul II, concerning their daughter. I told them that is one of the great traditions we have in the church is the Saints.
A fellow parishioner came by and offhandedly asked if I could teach him to fish. I said quickly and proudly that I could in fact teach him to fish for men.
Lastly, I met a couple who were struggling with fertility issues. I spent time praying and comforting them. This outing far exceeded my expectations and I can't wait to go out again. I was also blessed to speak with many who showed interest in my ministry. God will be growing my team. The Holy Spirit is moving.
Read more...
---
God's Timing
September 16, 2019
In November of 2015 as part of my formation to the diaconate, we were trained in a way to answer Pope Francis' call to go to the periphery and to preach the gospel. We were trained that day by the people from St. Paul Street Evangelization. Adam Janke did a wonderful job training us. At the end of the day, we had to go out and practice what we had learned. It was kind of scary, kind of like a 12 year old boy at his first middle school dance. But I got through it and it turned out to be quite rewarding. At the time, I thought this was something I wanted to do. My plan was to try and start a team after my ordination in 2019. At least that was my plan.
Fast forward to March of 2017 and I find myself asking my pastor if I can go ahead and start evangelizing the next Friday. He said,,yes. I ordered my starter kit from SPSE(St. Paul Street Evangelization).
I was going to start kind of easy on this as I had no team as yet. I committed to evangelizing each Friday at our Lenten fish fries which are always well attended and I prayed that God would start bringing me my team. The first two weeks were just me but they were absolutely wonderful. The very first man that came  up to me, David, had just found out he had cancer. So, I immediately found a friend to pray with me. He left feeling much better. It was a parish event so I was pretty amazed at just how many non-Catholics and non-practicing Catholics were coming up to me. I prayed with many people and was able to give away many miraculous medals and rosaries. I knew this was the right thing to do and I have faith that God will bring me workers for his vineyard.
God is faithful.
We just finished our third week. Yes, I said, "We." My youngest daughter and another spirit filled disciple, Jennie came and helped. God's graces just kept pouring out as we had more visitors than one person could handle. Jennie was nervous, much like I was the first time. I told her that it is fine and that her love for Christ would make up for any nervousness she had. She did wonderfully and promised to come back and help the next week also.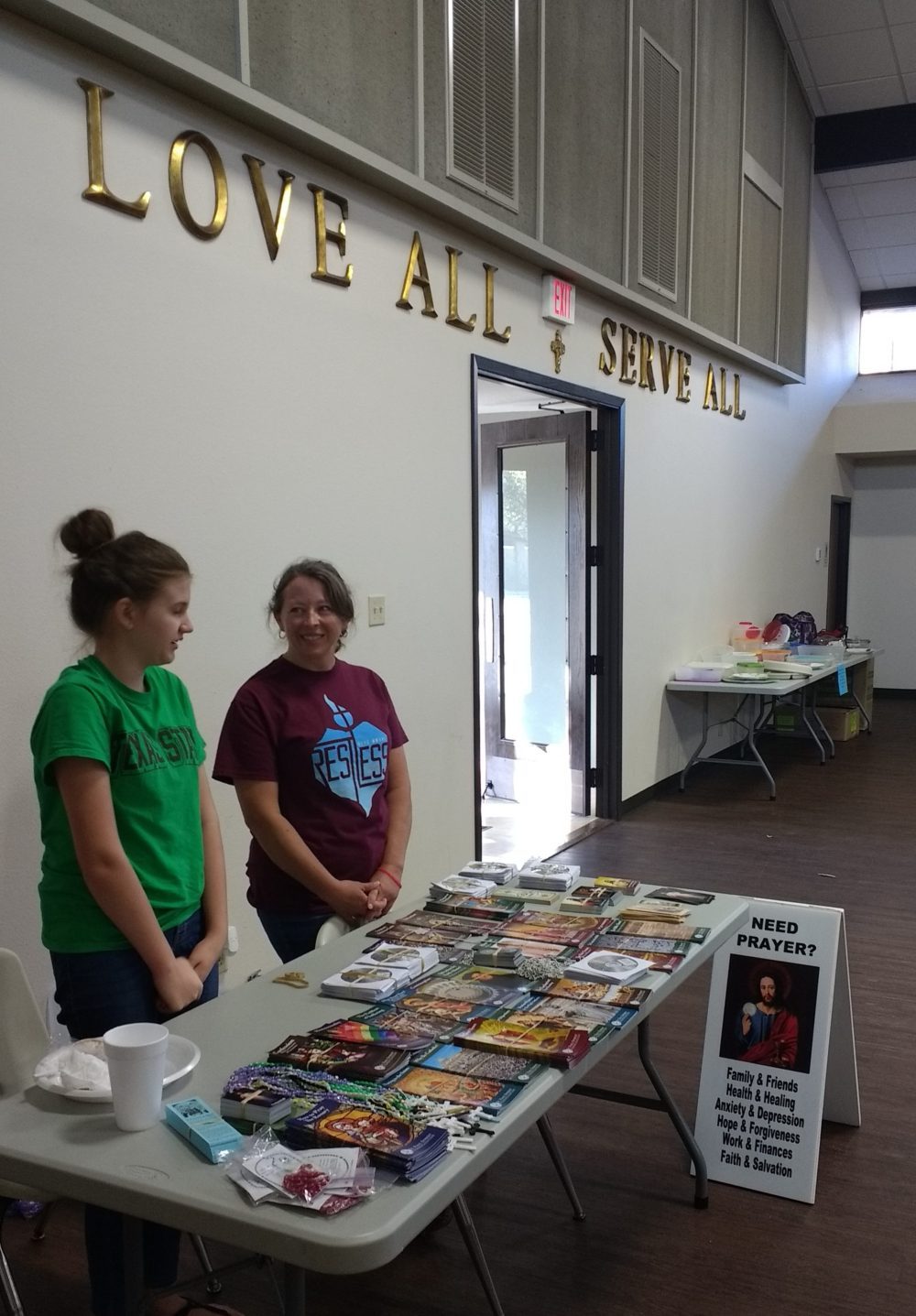 Look's like maybe I have a team now. I think the words above our evangelizers pretty much says it all.
Read more...
---