Strange Cloud
June 16, 2022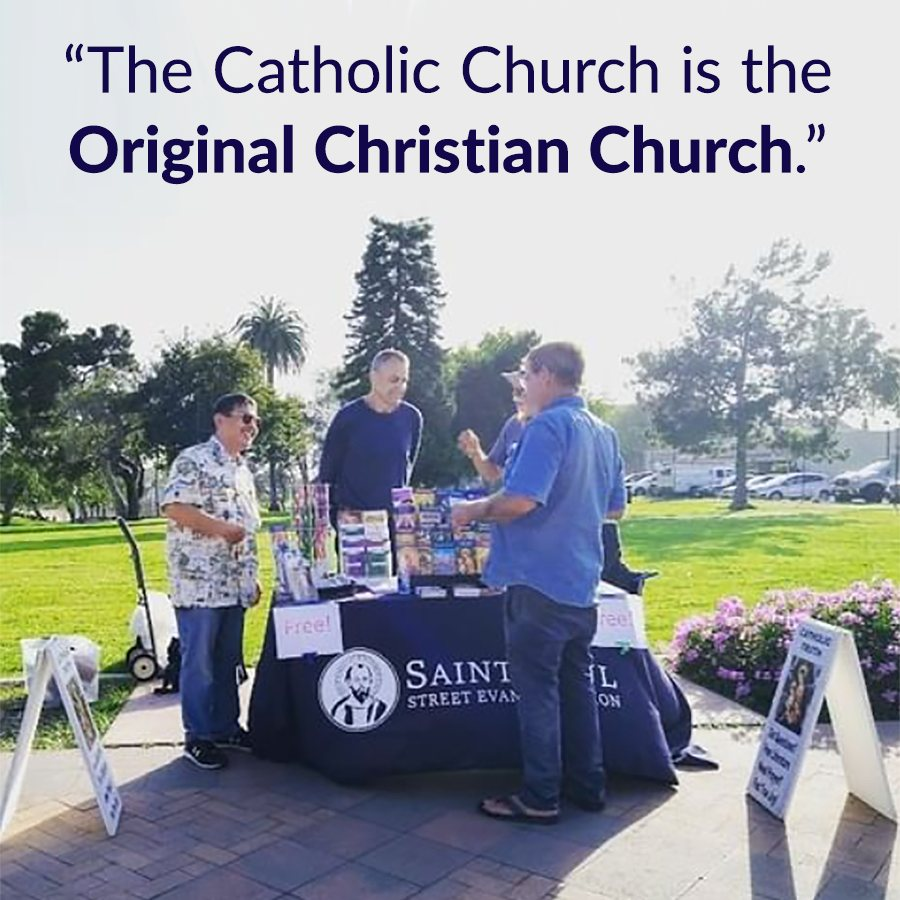 Instagram
There seemed to be a bit of a strange cloud over our outing yesterday. I arrived late and was feeling flustered about that and stressed about events in my life. The team informed me that while they were setting up a guy came by yelling his objections to the Catholic Church. However, despite the forces of evil apparent trying to put a damper on our activities, which is what I believe was happening, we still managed to have some productive conversations. My favorite was with a fellow Christian that goes to a Calvary Chapel church. He said that he has never been invited to a Catholic Church, so our evangelist, Andres formally invited him to attend Mass with him at St, Charles, a church close to where they both live. I also offered 'one good reason' why I am a Catholic and that was because on March 13th, 2013, many news agencies around the world had a similar headline story that day. They all reported something like – 'Pope Francis is Elected as the 266th Leader of the Catholic Church.' I asked our friend what the significance of this was? He wasn't sure where I was heading so I explained that it shows that even the secular world knows that the Roman Catholic Church is almost 2,000 years old and today, is lead by the 265th successor to St. Peter. He agreed and said that the Catholic Church is the Original Christian church, that made me happy because it was the discovery of that historical fact that started me down the path to becoming a Catholic many years ago and I pray that it will do the same for him. We were also blessed to, once again, have a new evangelist join our team!
Read more...
---
Chula Vista Group Week 2
June 10, 2022
Instagram          Facebook
We set up on 3rd Ave, in what we already call, our 'regular spot.' Again traffic seemed light but once the table was ready, a nice flow of people began walking by.
We began chatting and handing out pamphlets. We spoke to a gentleman the goes to a local evangelical Church because he just wants to 'follow the Bible' he had never really thought about where the Bible comes from or which of the many denomination interpret it correctly. We gave him pamphlets on reasons to be Catholic and the Bible alone.
Another guy stopped to tell us that he left the Catholic Church because of the 'false teaching' some of his beliefs were confusing like his disagreement to the Trinity because he only believes in 'one God' I tried explaining that belief in one God is exactly what the Trinity confirms but obviously God hasn't given him ears to listen yet. We agreed to disagree for now but ended by confirming that we both love Jesus.
A group of scantily clan teenage girls walked by. We asked them if they would like to talk about Jesus they responded, "worship the Devil!" I'm sure they don't understand the gravity of what they were saying but still, as a Dad of two girls, it makes me sad to think of how lost they must be to say something like that.
A street vendor came by, he was already a Catholic, we gave him a very nice rosary on the condition that he prays a decade each day, which he agreed to.
We are already seeing the fruits of being in the same time and place, we saw a couple of familiar faces from last week. One of our evangelists was feeling guilty about a encounter with a Pastor, it ended him walking away a little angry. This week the Pastor came by again and we were able to shake his hand and start the relationship over, which felt really good.
We were also blessed to have two new evangelists join the group, Walter and Andres.
I have to give a special thanks to Todd, Joseph and Tim. They are long-time SPSE members and came to talk to a men's group that I attend, it was the push I needed to get the Chula Vista chapter up and running.
We have now committed to a weekly out in Chula Vista, the Holy is doing great things in Chula Vista!
Read more...
---
Chula Vista Group inaugural outing was a great success!
June 2, 2022
Instagram     Facebook
We set up on 3rd Ave, the main street in downtown Chula Vista. I had staked out this particular spot mainly because, with nice park right behind us, I would have the option of bringing my young kids with me in the future.
At first, we were rethinking whether we had chosen the right location because foot traffic seemed to be very light. But as soon as we set up our table the Holy Spirit started to send a steady stream of passersby.
We handed out lots of tracts and had some great conversations. We spoke to a young man that looked a little down as he walked by listening to something with earbuds, he then doubled back and accepted a rosary, he shared that he doesn't go to church but wanted to learn more about Jesus, he was encouraged to visit a great men's group at local church where we get together to read scripture a pray among other things.
Another young man came by in a motorized wheelchair, he was born with a terrible disability but was so strong an optimistic, I felt like the Holy Spirit had sent him to minister to me more than me to him. He did state that he has often asked God, why did this happened to him, he was carrying a Hindu symbol but was open to hear about other religions. He took a rosary and a leaflet on how to pray it. He told me that he had a Bible at home, I felt lead to tell him to read the book of Job. I hope that was the right suggestion. There were many more great contacts. We were also blessed to have a new team member join the group. We have already planned an outing in the same spot next week.
Read more...
---