Diocesan Newspaper
August 27, 2022
Made it to the Diocesan Newspaper(Arkansas Catholic).
Read more...
---
2nd Evangelization Outing
July 28, 2022
I just wanted to give you an update on the July 16 SPSE outing. The outing went very well. We distributed between 7-10 Rosary beads and distributed pamphlets on how to pray the Rosary. The first person, that came to us, was a man who converted to the Faith a couple of years ago from Episcopalainsim. He attends I.C. and he gave me his name and said that he would be interested in joining the team. I told him that I would contact him when we go out again. He had a bracelet with a few St. Benedict medals on it and he said that he also wore a St. Benedict's medal. I mentioned to Mark and Jan that it was St. Benedict's feast day a few days ago.  Coincidence? We also had a teenage girl come up asking for a Rosary. She said that she was getting it for a friend and wanted one that matched the color of her classes. She seemed enthused about it. We also had a lady who did not want a Rosary, at first, but then came back and asked for two. We had a man come up, who was interested in the history of Ft. Smith. He said that he was not Catholic but he took a Rosary and said that it was nice to see Catholics out evangelizing. We had a lady come up and said that she was away from Mass, because of COVID, but wanted to come back because she was hungry for the Eucharist. We said that she was more than welcome to come back. We also had a veteran, who was lonely, and just wanted to talk. He spoke with us for a while and we prayed with him which he seemed to appreaciate. We had a lady come up, whom I presume to be a promoter of the Farmer's Market, who videoed us saying that this table was promoting Jesus,  giving out Rosaries, and if anyone wanted to visit with us they could. We did put up a canopy but there was some clouds and an occasional breeze. God was looking out for us.
Praise be to Our Lord Jesus Christ.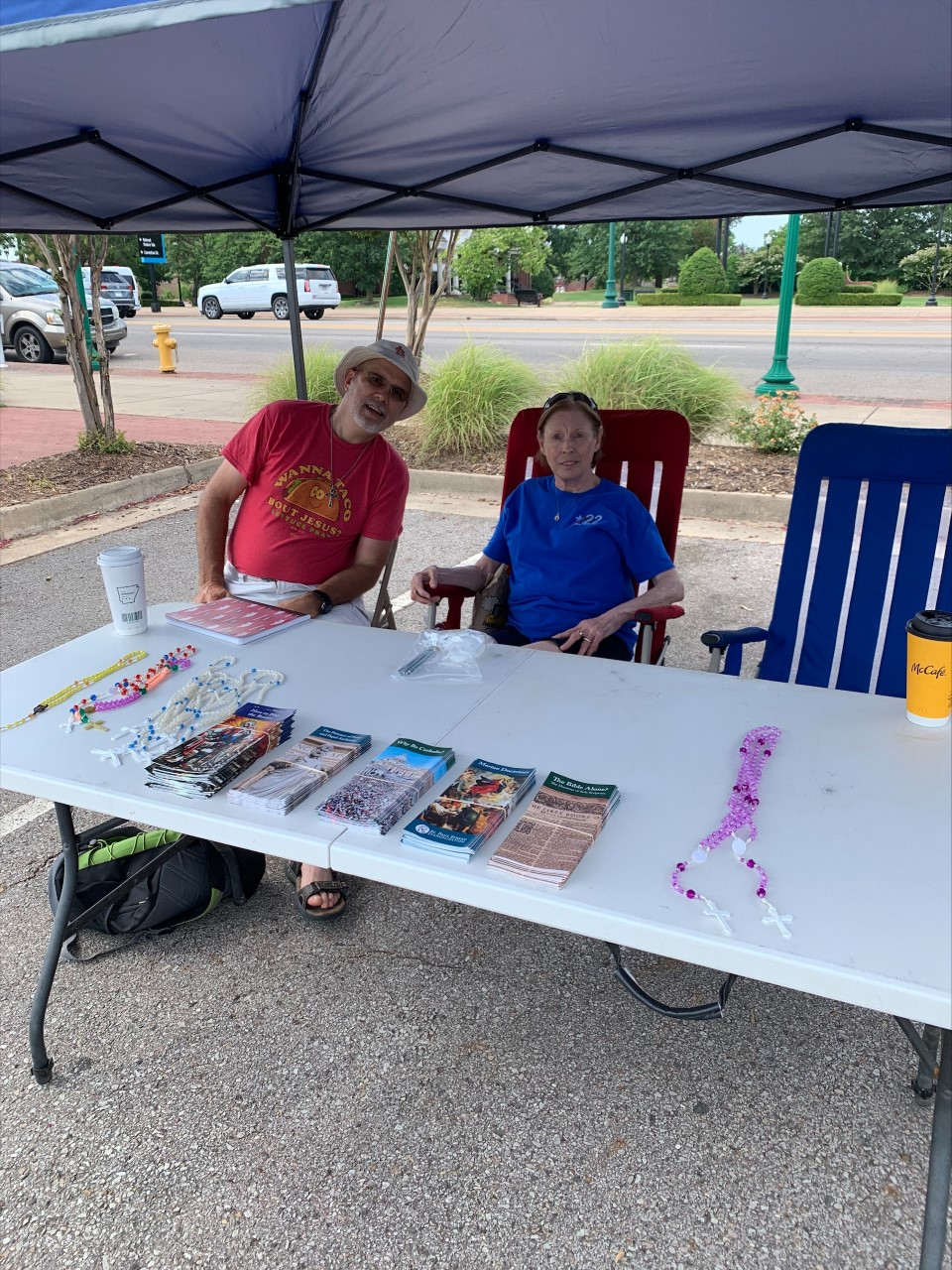 Read more...
---
First Outing
June 13, 2022
We went on our first outing this past Saturday. Although we visited with one person we thought that the outing was successful. We met a woman named Mary. She said that she was baptized a Catholic but she had not been to church in a while. We gave her a Rosary, prayed with her, and told her that she was more than welcome to come back to church.
We also had a "spiritual experience." Myself and team member Jan were talking about her visit to the church where the image of Our Lady of Guadalupe is enshrined. I just happened to turn my head and, a little ways over, there was a lady who was wearing a Our Lady of Guadalupe t-shirt. Almost simultaneously we both said that that was a sign that Mary was with us and she gave her stamp of approval.
Praised be to Jesus Christ!!
Read more...
---