Read more...
---
Report from Winfield's Good Old Days
September 20, 2023
This was our first time as a time at Winfield's "Good Old Days", which is put one each year by the local parish's Knights of Columbus council. A big thanks to our Station Leader and fellow Knight, Bill, as we wouldn't have been able to do this without his help! We met many people during the weekend, and received many prayer intentions as well. Below are a couple reports from some of our Station Leaders who were also at the even. First, Angelica, followed by myself (Nick):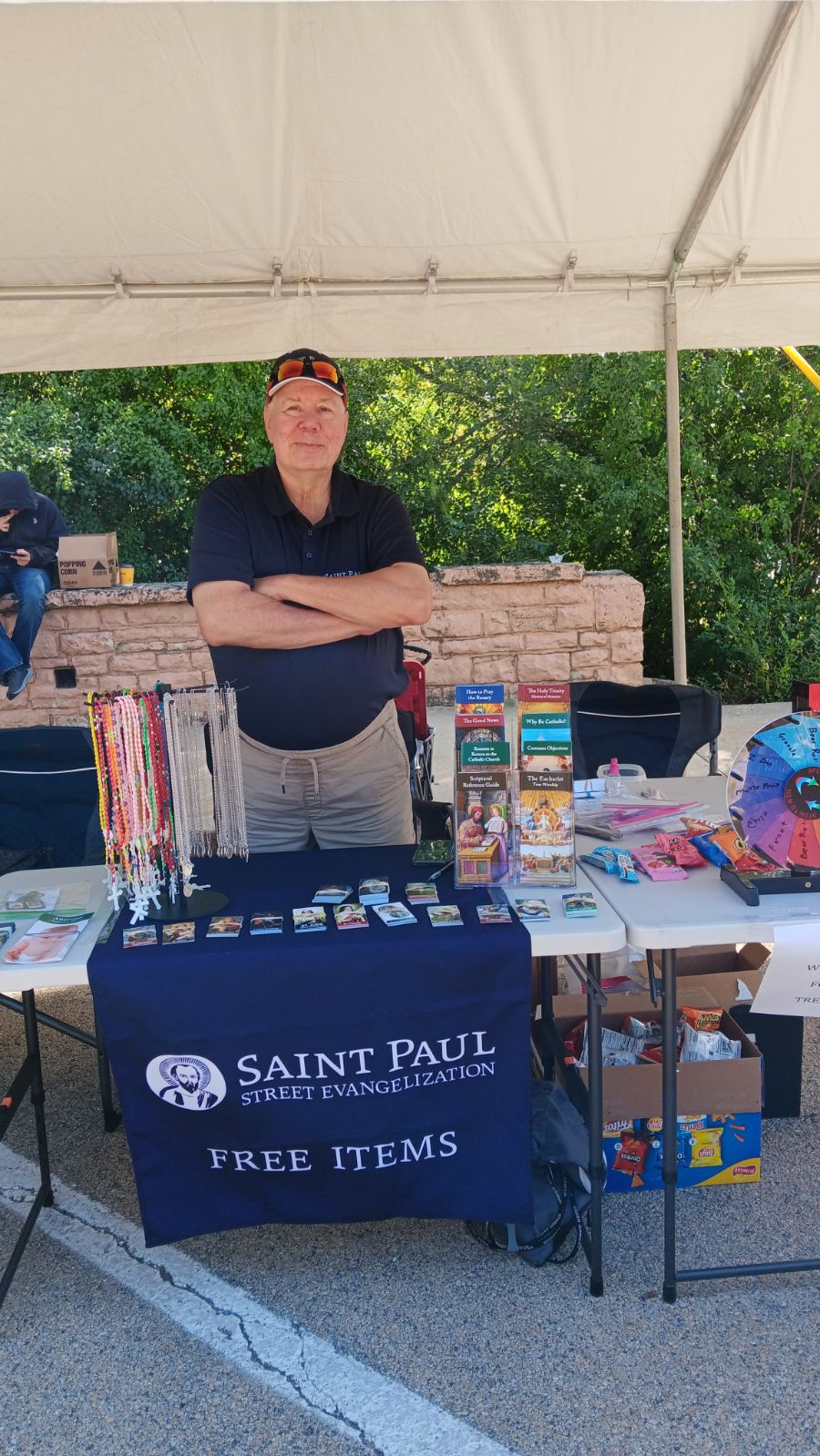 I shared a post on Instagram recently about how an ordinary life is something to aspire to. Celebrities may get attention, but it is the common person that should get respect. Everyone we meet has a complex story, but sometimes we forget when we get caught up in our own messes and joys. I think that's one of the reasons I evangelize. I love hearing people's stories, and helping them if I can. The Winfield fair I attended recently helped me reach souls and get to know some strangers!

The day started off a bit slow. But when it picked up, we were busy! If I had to estimate, between 60-70 people came to our booth. Me and the other leader, Bill, had so many good conversations! A man came up saying he was about to enter RCIA, but his family didn't understand why he wanted to. I empathized with him, because most of my family aren't religious. Some non Catholic Christians, like Protestants and non denominational Christians, came up. We showed charity towards them and answered the questions they had.

Moments of evangelization come in unexpected places too. The booth next to us was selling organic dog food. However, the employees were Catholic. In between people coming up, I would talk to the employees. One of them asked for prayers for an important meeting she had, as well as for her mom. You never know who you'll meet at public events.
Next, my report from the same day:
It was a blast being at the "Good Old Days" Festival, and since the whole street that the local parish was on was blocked off, we had our booth just yards away from the church where our Lord Jesus was reserved in the tabernacle. Our Station Leader , Bill, was able to secure us a spot for the weekend, and with his help we had some fantastic conversations!

A young couple and their one year old son walked up to our booth. The mother was a bit more talkative, saying she wanted to take a rosary. I asked her if she knew how to pray the Rosary and she said she had prayed it once or twice with her aunt and grandmother, and I gave her a "How to Pray the Rosary" pamphlet which she happily took. She appreciated knowing that this was a walkthrough Scripture. She then continued speaking more in depth with one of our other Certified Evangelists, Trish. They had a fantastic conversation where Trish exhorted her to return back to a full practice of the Catholic faith. Hopefully Trish can fill us in more of their great conversation, as Trish came away from that conversation beaming!
But my attention had turned to the father, who we'll call "Guillermo". He was a bit stand-offish but he wasn't backing away from our table with his son. I engaged him in conversation and asked where he was from. He said he grew up on the Southside of Chicago and went to one of the local Catholic high schools there, nearby where the White Sox play. We both commiserated, lamenting how awful a season the White Sox were having this year, wishing they would start playing some better baseball! I asked him if he wanted any rosaries or medals, and he said he'd take one of the saint medals. He then mentioned without prompt that he had been away from the Catholic faith since high school, but it was more so that he just stopped going to church, and not so much that he stopped believing his Faith was true. I told him that he's always welcome back, and now that he has his son, it's a perfect time to come back.
I thought about asking him to seek baptism for his son, but while I was trying to figure out how best to word it, he blurted out, "If I could get baptism for my son, how can I do that? Who do I call? I don't know where to go". I found out he lived in the next town over and told him he could just simply call the parish and they will set up baptism for him. He knew that he had dropped the ball in getting his son baptized, but it seemed providential that we were there at the same time he and son were so that we could prompt him to give his son salvation, and also come back to the practice of the faith himself. I also gave him the  "reasons to return to the Catholic Church" and the "True Worship" pamphlet on the Eucharist, along with a rosary that he requested. He also asked me "Who would be a good saint to pray to for my son." I thought for a moment, and told him to pray to St. Joseph. I told him that God our Father had entrusted St. Joseph to be our Lord Jesus' earthly father. If we entrust our children to St. Joseph's prayers, we cannot go wrong. I also told Guillermo that St. Joseph would be a model for him, too. I urged him to pray to St. Joseph often and gave him a holy card with his image on it. Finally, I told him that his parish has FORMED.org. I gave him a postcard with the instructions to sign up and urged him to watch "Reborn: You, Your Child and the Heart of Baptism".  I told Guillermo that this would help him and his son's mother to understand more about this great gift he was thinking of giving his child. I then asked if we could pray together, and we did, invoking God to bless Guillermo and his family with the gift of faith. Please pray for Guillermo for his continued conversion, and that his son may be baptized!
We had many children coming up to the booth, some from the parish and school there at the Winfield parish. We didn't engage in too much conversation if the parents weren't there, but we had some good encounters and many children liked picking out their favorite saints and other medals. One little girl, maybe around 9 or 10, came up to our booth with mom and aunt, and she said that she really liked St. Michael. I gave her medal and holy card and told her that she has a powerful intercessor. The mom said she remembered doing saint reports at her Catholic school and how great it was to learn about the lives of the saints, especially unexpected details! Found out they also live in the neighboring town, which has a parish school, too. I mentioned to the mom and aunt that they have FOMED.org through the parish, and told them they should watch some of the shows there with their daughter/niece, and that there was a lot of content there to help them grow in the faith as I mentioned my wife and I were doing a Bible Study on there. Both said they didn't remember anyone at the school mentioning it, and they were very happy to know about it and took the instructions home to utilize the FORMED platform in their domestic Church.
Later on, a middle-aged man eating an ice cream cone came up. He was looking at our table and asked him if he wanted a particular medal or rosary. He said he wasn't sure since there was such an assortment. He gave his name (we'll call him Titus), and told him while we didn't have any of those, we did have St. Paul, and that he and St. Titus were pretty close! He joyfully accepted and gave him a St. Paul medal. Started talking with Titus, asked him where he went to church, and he said he was raised Catholic, but then his ex-wife invited him to "Christian community church" and he's been going there ever since as it was the "first place he was ever personally invited to". He said there were just things that he didn't understand when going to Mass, and then I pressed him a bit and he said in similar words that "the priest often wouldn't make sense during his homilies. I'm a simple guy and sometimes the priest would just be talking way above my head. I'm sure those priests meant well, but when I go to my church now, I understand Scripture better, and I know what's going on now." He said he went to Catholic school all his life, but he just feels more comfortable there and said that, "we're all on the same path. I'm sorry if that's offensive, but that is what I believe. It doesn't really matter if some go to one congregation and others go elsewhere. We all love Jesus and follow Him" I told him I didn't take offense, but I asked him if I could give him a few reasons as to why I still go to Mass every Sunday and Holy Day and why I still consider myself Catholic. He said he would really appreciate hearing that, as long as I didn't mind that he finish his ice cream cone!

I started by quoting our Lord from John's Gospel where he prays to the Father that all the followers He has been given may be one. I told him just like how St. Paul, St. Timothy and St. Titus were pretty "tight", God the Father and God the So (and the Holy Spirit) are even tighter! That is the vision that Jesus Christ had for His Church; that all Christians be of one mind and one heart. I then mentioned how St. Paul warns us against false teachers, even if they are an angel; if a different Gospel is being preached, we must reject it. So I mentioned to him that unfortunately, there are false teachers out there, so how do we discern false teaching? He agreed and said all over his church, there are verses posted on the walls, several of them recalling St Paul and S. Peter's words about being on the lookout for false teachers and those that twist the Scriptures to their own destruction. I then lightly mentioned the Eucharist and said that I, and all Christians, need the Eucharist to live. I asked him then what his congregation does with "communion". How often do they receive it? He answered that they receive communion every week actually, but it's just bread and grape juice instead of wine. I pressed him and asked what does he believe, and his congregation believe, that the Eucharist is? He said he's not sure, but mentioned he remembered what was taught to him as a boy regarding the Eucharist. He then said, "You know there's another thing that's bothered me", and when he said that I knew that there was an underlying reason why he left the Catholic faith; it wasn't merely his ex-wife's invitation to another ecclesial community. I was curious to what the reason was, asked him what bothered him, and he then revealed that one of his sons came out as having same-sex attraction. He wondered aloud how could his son be rejected? He said that the Catholic Church does not accept homosexuals and that his new community is more accepting.
But I could tell that Titus had some reservations, making qualifiers about how they don't necessarily promote homosexuality, but they love everyone and accept his son, whereas he said his son didn't feel accepted in the Catholic Church and at the Catholic school he sent him to. I told him that Jesus absolutely loves his son as he is, and that the Catholic Church does accept him and welcomes him to participate in the life of Christ. But I tried to make distinctions, gently, between a predisposition ad actual acts. I told him God has a plan for sexuality, and that starts in marriage. Both of us agreed marriage is only between a man and a woman. I told him his son, as we all do, has choices to make, but the mere fact of him having same-sex attraction is NOT sinful, and the Church wants to walk with both him and his son. Titus then wondered aloud if he had something to do with his son going down this path, if he wasn't doing things good enough in the past. I stopped him and told him God doesn't want him to dwell on the past. Focus on how we can do better for Christ and those around us NOW, in the present. I told him I have four sons, and I have the same worries that he does, that I'm not doing things right. But God does not want us to beat ourselves down. If we make mistakes, we get up, and let Jesus heal us. I then turned our conversation back to where we can find that healing: in the Eucharist, which we are all invited to. I asked him if he misses this in his new church.
Titus said he wasn't sure, but signaled he was open to learning more about why I had such faith in the Eucharist. I asked him if we could read some Scripture together. He happily agreed, and together, we read the Bread of Life discourse in John 6. As I was reading it, I handed him the "True Worship" pamphlet on the Eucharist, and he asked me which specific verses I was reading with him so he could read them on his own and go to his pastor. He asked me to write those verses on the pamphlet, and I did. As we went through the whole discourse, I put special emphasis on John 6:53, "Unless you eat My Flesh and drink My Blood, you have no life within you". I also emphasized how many people walked away, and he seemed taken aback a bit by that, and he commented that those people that walked away didn't want to stick by Jesus when the going got tough. I reminded him that some of those people were Jesus' OWN DISCIPLES. He agreed and said that this was indeed telling. I asked him again, what does your congregation believe? I pointed to our sandwich board with Jesus holding the Eucharist. I said to Titus that Jesus wasn't just holding bread in that image. He's holding Himself; He's giving Himself to us!
Titus said he didn't know what his pastor believed, and he said maybe it's the same belief that we as Catholics have. I told him in no uncertain terms that his his congregation does not believe the Eucharist is truly Jesus; they see it as a symbol. So I told him to ask his pastor about it at church the next day (Sunday), and really meditate on these Scriptures himself with the help f the pamphlet I gave him. He said he would for sure. I also found out he lived two towns away, and that the parish he used to belong to had Formed. I gave him the FORMED.org postcard and told him to log on and watch at LEAST the first episode of "Presence: The Mystery of the Eucharist". He told me that he would and seemed genuinely interested in viewing it. I had already kept him for about 20 minutes at this point, but never at any point did he try to walk away; he was very engrossed in our conversation. I told him I would pray for him, asked him if he would pray for me, and then I invited him to pray together. We asked out Lord for a strengthening of virtues in our lives, that we could be shining lights for our sons, and walk closer to the truth as Jesus has revealed it to all mankind. I asked the Lord to bless Titus and that the graces he received as a child in Confirmation may be activated. He made the Sign of the Cross with me as we ended our prayer, and he thanked me for our time together. Please pray for him and his family that they return home to the one, true Church; the Catholic Church!
As we were starting to pack up, a couple of kids (maybe in 5th grade or so) came up to the booth and wanted to try spinning the wheel that Bill had brought. Upon spinning the wheel, the person is able to pick out a snack. As they were getting their snack, the mother of the two boys came up and said they had to go, but she lingered looking at everything on the table. After about 10-15 seconds I asked her if she'd like a rosary, and she said she did need another one for her car and took a minute to pick out the right color she wanted! I asked her if she knew how to pray the Rosary, and she answered affirmatively, but then added, "but you don't want to know when the last time I went to Mass was", and laughed nervously. Bill and I smiled and told her that she is always welcome to come back, and there's nothing keeping her from returning.
Bill then gave her a personal invitation, especially since they live in Winfield. He said, "on behalf of the good people at St. John the Baptist, I invite you to come join me and the others for Mass, along with your children". He added they often have parish dinners, and she can stay for the food after Mass! I gave her a brief testimony on why I continue to go to Mass at least every Sunday, and said that I know I need to be sustained by our Lord in the Eucharist. I mentioned a bit of the Bread of Life discourse and told her that I know I need the life-giving bread from Heaven; otherwise, there's no way I'll be able to get through this life in one piece. I asked her if there was any intentions she had on her heart to pray for. She mentioned her sick sister really needs some prayers. I asked if we could just pray right now, and she obliged. She gathered her two sons and said, "Let's pray for auntie!" The kids didn't know sign of the cross, but she encouraged them to pray. Before they left, I gave her the "reasons to return" and "Eucharist" pamphlets, and again encouraged her to come back home to the Catholic Church.
There were several other conversations had by all, but we ask that you please pray for all the people we encountered, and especially for those listed here. God bless you all!
Read more...
---
Read more...
---
Read more...
---
Read more...
---
Read more...
---
Read more...
---
Read more...
---
Read more...
---
Read more...
---
Read more...
---
Read more...
---
Read more...
---
Read more...
---
Read more...
---
Read more...
---
Read more...
---