Read more...
---
Read more...
---
Read more...
---
The Spirit in the Summer Heat!
July 19, 2021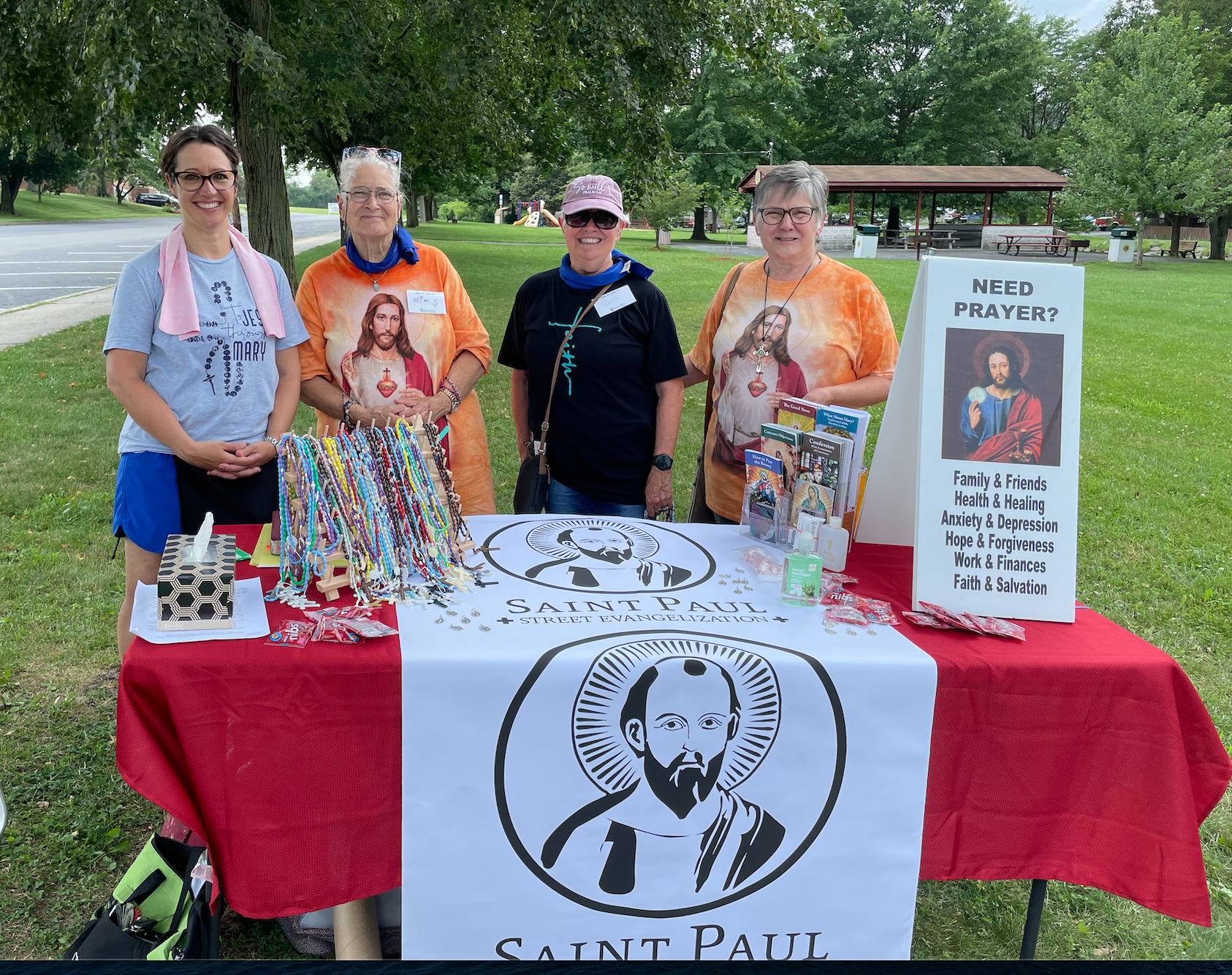 It was a hot July day which was calling for thunderstorms. Uncertainty over the date and time of the event plagued the thoughts of the St. John the Baptist team from Pottsville, PA.  The last minute idea to offer free ice cold bottled water as another way to offer the love of Jesus entered our minds - so we went with it! Not a lot of foot traffic was expected at Stoyer's Dam local park that particular day, but once again, God had other plans! We were surprised to find on our arrival that an unadvertised craft show was going on, so with rosaries-on-arm, and free cold water to offer, it appeared to another divine set-up!
We set up our table and started to pray as a team, thanking God for the opportunity to serve Him, and asking to be filled with his Holy Spirit of Love. Not many seemed interested in approaching our table (despite our "FREE WATER" sign), so we spread out and spoke to whomever the Holy Spirit led to us. We began by praying the rosary together, but did not get far into 'The Creed' before we were in the midst of many townsfolk. Although some kindly declined a rosary and/or prayer invitation, most graciously accepted. One woman responded, "I'm not Catholic, but sure, I'll take a rosary". She was genuinely appreciative after learning "that anyone can pray the rosary, Mary is the Mother of us all, and praying the rosary is a powerful offering to Trinitarian God, through the intercession of Our Mother Mary". Another young couple walking with their beautiful baby girl was very accepting of the prayers for blessing over their young family, and also very excited to receive a free rosary.
This outing was big for St. John the Baptist team members, as this was the first scheduled outing together (as a team) following our training which completed in June. They were excited to put it all together and get their feet wet in street evangelization. Prior to ending the outing, we discussed our impressions, thoughts, ideas and suggestions on how to improve next time. We finished by offering a prayer of praise, thanksgiving, and intercession for personal intentions.
'Next Steps' for the team are to continue to grow the team by providing training to another local parish, and to approach all the local Catholic churches to educate them on the St Paul Street Evangelization apostolate. We are excited about upcoming outing and display table at St. Mary Parish in Hamburg, PA at their annual Harvest Festival on October 1-2, 2021.
Additional outings will also be scheduled soon.
Read more...
---
Read more...
---
Read more...
---
Read more...
---