Read more...
---
January 5, 2014 – A call to action
September 16, 2019
Happy New Year everyone!
St. Paul Street Evangelization has been in Billings since Spring of last year. As the Billings Chapter coodinator, I would like to invite you to join us in sharing the Good News about your Catholic Faith here in the Magic City.
We have been on the streets handing out rosaries, praying with people and answering questions about the Catholic Faith and will make our presence known to the community in a greater effort in 2014 but we need your help. Please join me in sharing our awesome religion to all as dictated in the Scriptures and the Holy See since Pope Paul VI.
If you love your Faith and Jesus and what He has done for us, it will be easy. We will give you the training you need to share with intensity and love. Please call the number on this page today and begin sharing the Love of Christ to a world that is in need of it.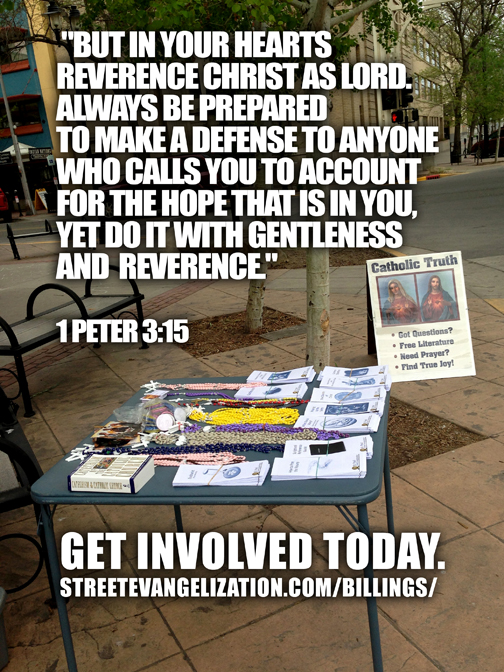 Read more...
---
Billings, MT June 8, 2013
September 16, 2019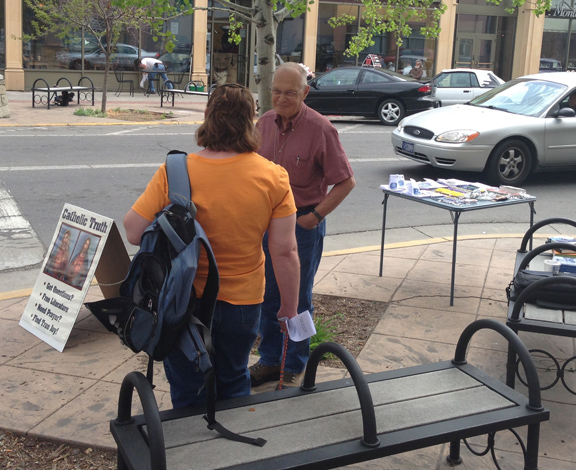 So Larry and I were giving out Rosaries and telling people how to pray it. Then along comes the March Against Drugs and Violence going north on N. 30 Street. A guy sees our sign then comes running across and gives us a flyer about the march. He was really excited to see the "CATHOLIC TRUTH" on the sign and he told us he was raised Catholic. Said he loved the faith and always wanted to be a priest…but he also always wanted to have kids so he left the Catholic church to become an evangelical pastor, much to the chagrin of his mother. He continued to tell us he still loved what the church taught and sent his kids to Catholic Schools and they received the "Light of Christ" awards when graduating from high school. He thanked us for being out there, took a rosary, I gave him a pamphlet on how to pray it and the one on why he should return to the church. We exchanged cards and he told us to email him. After reading the flyer, found out he was the organizer of the march. God willing, we'll have our first Revert.
Read more...
---