Gaithersburg
Country:
United States
State or province:
Maryland
Team Leader
Nancy McCambridge
Contact
Admin
Login
---
Team Badges
---
Recent Blog Posts
---
WE ARE PARTAKERS OF HIS DIVINE NATURE (2 PETER 1:4)
July 21, 2022
---
It is hard to believe that we are partakers of God's divine nature but that is what God's word says.  "Through these he has given us his very great and precious promises, so that through them you may participate in the divine nature, having escaped the corruption in the world caused by evil desires." (2 Peter 1:4)  Every time we share God's heart with another person relying on God's Holy Spirit to console, encourage and upbuild each other, God's grace is poured out.  I met Adrian, a young adult who actually was taking a break from one of the Protestant churches that he was attending.  I felt like God wanted to relay to him that he has many more gifts and that God wants to give him to build up his kingdom.  He was very attentive and was interested in learning about things that we were offering at our Catholic church not to mention the Eucharist which was instituted by Christ and given as a gift to the church to share in His very own life.  The Catholic Church has such riches to offer people.  Please pray he will follow through.
Trigeminal neuralgia is a condition that causes painful sensations similar to an electric shock on one side of the face.  I had met David years ago and I have seen him off and on.  Every time I see him I continue to pray for complete healing for this painful condition.  I invited him to the Miracle Healing Service at our church. Please pray God would heal him completely! Please also pray for Ed who I have had a relationship with over the years, that God would give him the desire to go back to confession and receive God's healing mercy as he has been away from the church for awhile. Also pray for Angelo whom we prayed with for direction and peace in his life.  There were so many other people we shared the gospel with.  May all the seeds planted God would draw them to Himself.  Thank you to all our intercessors.
Below are some pictures taken at the SPSE Immersion Conference a week ago in Detroit, Michigan where my husband, Bob, and I were evangelizing outside of Starbucks.  These wonderful women we also met were on our team evangelizing.  May God continue to bless and protect our little chapter,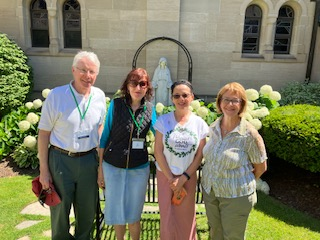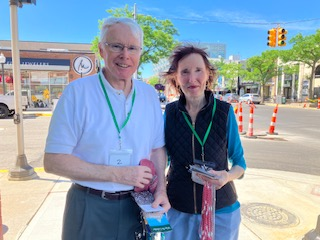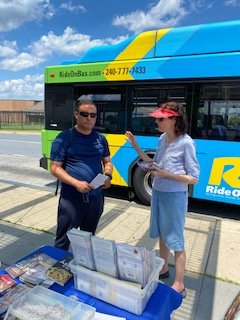 that we would bear much fruit for His kingdom.