Annual Seafood Festival
October 11, 2022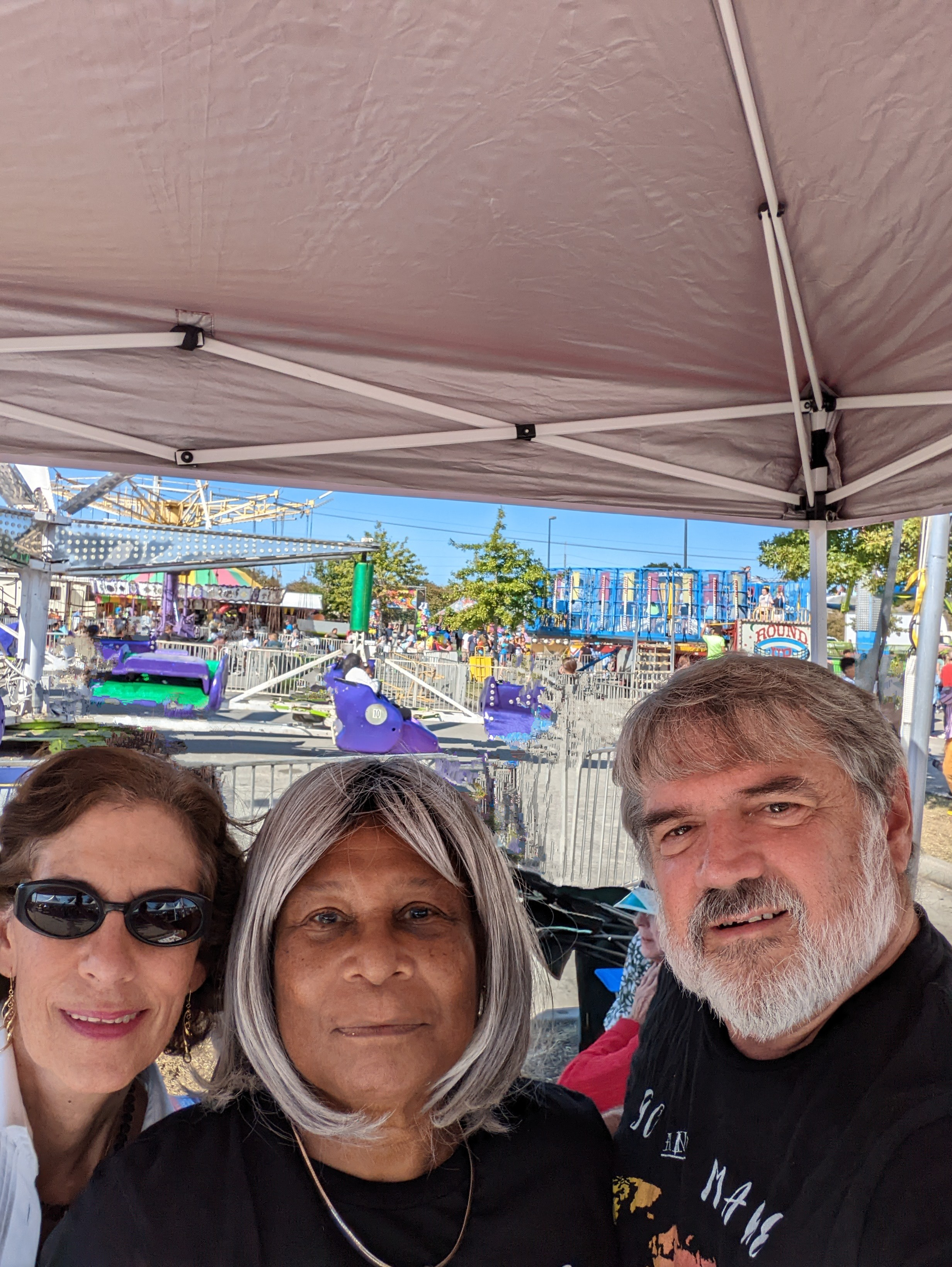 Photo above from left to right: Martha Venegas, Dr. Grant and Chuck Luquet pose for a snap shot.
The Kenner Team greeted every passer by of our booth with a smile as if they were "old friends" coming to visit.  None were disappointed with their free gifts and joyous conversation.  Based on the position of  the SPSE booth, I wondered if anyone would stop by since the music was very loud and lively.  However, over twenty persons stopped by the evangelization booth for prayer and consultation.  Nearly eighteen Prayer requests were taken to the Adoration Chapel.  It was there that the prayer warrior could escape from the loud band playing all the crowds favorites from bygone years, in order to concentrate on praying for the needs of parishioners as requested.
Our Team handed out hand-knotted rosaries along with the pamphlet "How to Pray the Rosary".  A few persons requested pamphlets to help their love ones return to the Catholic Church. Of most interest was the receptiveness of the podcast cards and the prospect of subsequent continuation of  their conversation.
At one point,  Our three evangelist were simultaneously engaging in conversation, Betty was evangelizing with an interested person; Martha was explaining the precepts of the St. Paul Street Evangelization Ministry with a parishioner and Dr. Grant was actively recruiting a parishioner to join the St Paul Street Evangelization Ministry.
Read more...
---
First SPSE outing at Divine Mercy Parish Car Show and Chili-Cook off
April 11, 2022
     The Kenner SPSE Team held their first evangelization outing at the Car Show and Chili-Cook held at the Divine Mercy Catholic Church.
Family and friends were excited to see us distributing miraculous medals, blessed rosaries and literature about our faith.  Those person who were not familiar with SPSE would approach our booth cautiously.  However, our we listened and shown truthful consideration, they were very receptive to us.   We met people who needed prayer and consoling. We collected their prayer intentions and went to the Chapel to pray for them.  Many were pleased to know that someone cared and listened to them.  A few were fallen away Catholics and a few lived several miles from the City of Kenner.
 We were surprised to see how many people gravitated toward three pamphlets.  The "How to pray the rosary",  Confessions and Reasons to return to the Catholic Church.


Read more...
---
Introducing the SPSE Kenner Team!
March 21, 2022
Our group formed as Door to Door Evangelists in 2013. The main purpose was to invite persons to our Parish and to pray for those we encounter. Due to the Pandemic, we were not able to continue knocking on doors. We decided to re-create our evangelization journey with a renewal of Spirit and method. On February 5th the newly formed SPSE Kenner Team met to plan their activities for the year 2022. During this meeting, we confirmed our commitment to evangelizing not only in our local Parish but in our zip code. Kenner is a suburban community and there are few places that have sidewalks. We plan to be regulars at Community and Parish events. Therefore, our first outing will be at a Car Show on April 9th which will be held in our Parish Parking Lot. We are excited to have the resources available to us via SPSE.
Photo: Top Left to right; Evangelists Martha, Arnoldo, Team Leader, Dr Jamillah; bottom Left-right Pray Warrior, Robert (deceased), Evangelist, Chuck; Not shown: Betty , our Communication Manager.
Read more...
---